Start each business day with our analyzes of the most pressing developments affecting the markets today, as well as a curated selection of our most recent and important information on the global economy.
The catastrophic floods that devastated parts of Germany, Belgium and the Netherlands last week are the latest incident in a series of global events highlighting the physical effects of climate change.
Intense rainfall overflowed the rivers, causing flash floods and deadly mudslides that claimed nearly 200 lives and left hundreds more missing. The disruptions have spread across the commodities industries, spanning metals, petroleum, petrochemicals and beyond, damaging key infrastructure and supply chains.
"There are problems everywhere," a source from a German steel company told S&P Global Platts on July 19. "DB Cargo's main line head is in Hagen. Barges cannot go there. [on the Meuse River] because of the high water. Parts of the railway line are missing. Trucks were hard to come by; now it's even worse. "
The floods left more than 21,000 people without electricity in southern Belgium alone at the end of last week. Reconnection remains[s] complicated, "local electricity distributor Ores said in a July 18 update, according to S&P Global Platts. In Germany, providers aimed to restore the medium voltage grid in communities affected by conditions. But E.ON Westnetz, the local network operator for Germany's Rhineland region, said some damage in the hardest-hit areas could take months to be fully repaired, with emergency measures such as generators relief being needed to restore supply in the short term, according to S&P Global Platts.
German politicians have called for accelerated climate action after the floods and ahead of the September 26 elections in the country, which could result in a coalition with a stronger mandate on climate and energy transition. The current German government plans to raise its solar and wind targets for 2030 after advancing its net zero target to 2045. The wider EU on July 14 announced a broad set of climate proposals aimed at putting the bloc on the path of reducing cumulative greenhouse gas emissions. gas emissions of at least 55% before 2030.
Linking the build-up of heavy rains and heat waves to climate change, Prime Minister of North Rhine-Westphalia Armin Laschet said on July 15 after visiting affected communities that "it means we need more speed with climate protection measures on a European, federal level [German], and globally.
Other extreme weather events have recently occurred elsewhere with equally destructive consequences: The forest fires that raged in California last summer and are burning in Oregon left millions of people without electricity, the vortex polar that froze Texas this winter has destabilized critical energy infrastructure, and some scientists believe sea level rise may have been a factor in the Florida condominium collapse last month. No longer 'black swan' events, the growing physical risks of climate change are prompting increased interest in climate risk analysis and greater attention to climate action by governments.
"Unlike transition risks, which could affect businesses anywhere, some locations are more exposed to physical risks," including floods, water stress, heat waves, cold spells, hurricanes, sea ​​level rise and forest fires, Mona Naqvi, global head of ESG capital markets strategy at S&P Global Sustainable1, said in a July 19 comment. "Investors now have the tools to align with a scenario that can mitigate the most catastrophic impacts, strengthen the resilience of the portfolio and ultimately achieve our goal of achieving net zero emissions. by 2050. "
Today it's Wednesday July 21, 2021, and here is today's essential intelligence.
The credit cycle
---
Global Structured Finance Outlook Mid-2021: Emissions Forecast Raised to $ 1.4 trillion
The global volume of new structured finance issues increased 60% year-on-year to approximately $ 685 billion in the first half of 2021.
—Read the full report of S&P Global Ratings
Leverage Financing: Q2 2021 Update on Leverage Financing in the United States: Recovery in Credit Metrics Shows Disparities Across Sectors, Ratings, and Capital Structure
The second half of 2021 has started on an encouraging note for speculative grade borrowers. The acceleration of the economic recovery has fueled optimism; transactions across the credit spectrum were executed on the perception that operating conditions and business results will continue to improve.
—Read the full report of S&P Global Ratings
Key industry trends in mid-2021: resilience, recovery, risks
The outlook for North American and European businesses has improved markedly. Upgrades exceed downgrades by a factor of three to one. All sectors have seen their net outlook bias (an indicator of downside risk) improve this year.
—Read the full report of S&P Global Ratings
ESG in the time of COVID-19
---
Gas Ban Monitor: building electrification evolves as 19 states ban bans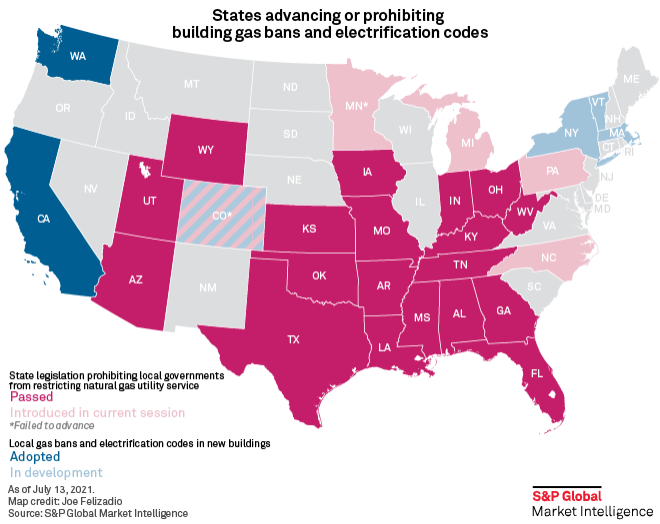 Local building electrification measures have expanded and evolved in the first half of 2021, as the policy has also spread to the federal and international arenas. Meanwhile, state laws banning natural gas bans have reinforced a growing firewall that now spans most of the southern United States and from the Rockies to the Midwest.
—Read the full article by S&P Global Market Intelligence
Mid-sector ESG push in the spotlight for second quarter results
Many mid-sector pipeline companies have focused on projects and initiatives to quantify, reduce, or capture carbon emissions along the gas value chain, but the market is looking to see if developers can reap benefits. additional income from these efforts while reducing costs.
—Read the full article by S&P Global Market Intelligence
UK Environment Committee launches survey to cut emissions from aviation and shipping
The UK Parliament's Environmental Audit Committee (EAC) on July 20 launched an inquiry into how the government can achieve net zero emissions by 2050 for the UK's share in international aviation and shipping . Aviation and shipping account for 10% of the UK's greenhouse gas emissions and, according to current trends, aviation will be the largest emitting sector by 2050, which the government is seeking to address. attack as part of its 2050 net zero strategy.
—Read the full article by S&P Global Platts
U.S. Democrats Propose Border Tax on Carbon Emissions
U.S. Democrats have unveiled legislation that would levy a levy on imported carbon-intensive products, including steel and aluminum, following an EU decision to implement a similar policy. The legislation, announced by Sen. Chris Coons and Representative Scott Peters on July 19, would establish a border carbon adjustment (BCA) on polluting imports.
—Read the full article by S&P Global Platts
The future of energy and raw materials
---
Listen: Intermediate investors will see if the commercial upturn in natural gas and LNG translated into second quarter bottom line
Harry Weber, Senior Natural Gas Writer at S&P Global Platts, Allison Good, Senior Mid-Level Finance Journalist at S&P Global Market Intelligence, and Platts Editor-in-Chief for Americas LNG Luke Stobbart discuss current trends in the north mid-market. US as gas pipeline and LNG export terminal operators prepare for second quarter 2021 financial results.
—Listen and subscribe to Commodites Focus, a podcast of S&P Global Platts
Written and compiled by Molly Mintz.