Will the European energy crisis put the climate on hold?
Gazprom's gas flows to Europe in December hit their lowest point of the month in at least six years, with supplies up 12% mthn but down 19% yoy.
Gazprom's monthly exports – Europe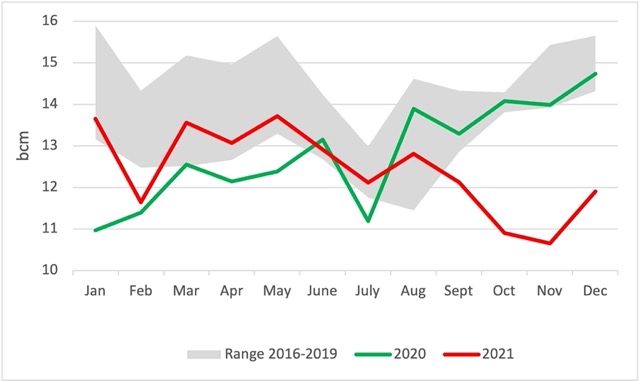 Since September, Gazprom has significantly reduced its exports to Europe, focusing instead on supplying the domestic market and Turkey, now connected directly to Russia via the TurkStream as well as the Blue Stream. Russian gas demand hit an all-time high of 1.7 billion m3 on December 23, leaving only 0.4 billion m3 of the country's supply available for Europe. Russian exports in the last quarter of 2021 were also a record low for the period.
Gazprom's quarterly exports and prices in Europe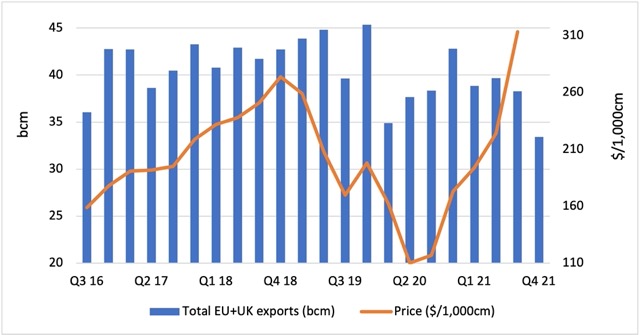 Gazprom's deliveries to Europe during the whole of 2021 were also 13 billion m3 8% less than the pre-coronavirus average between 2017 and 2019. As Gazprom and its European customers have provided little information, it is difficult to understand the reasons for the recent sharp reduction in flows. But on December 23, during a press conference, Russian President Vladimir Putin made it clear that Gazprom was delivering gas from Yamal to Poland, but no further because "the German and French companies did not ask for any gas. ".
Gazprom's European exports (2017-2021)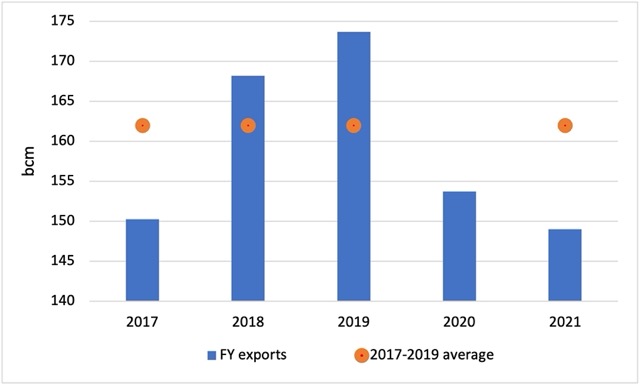 The transit agreement signed in December 2019 between Gazprom and Naftogaz provides for 40 billion m3/ year of transit volumes in 2021-2024. In 2021, Gazprom has decided not to reserve any additional capacity via this route. The reduction in flows between 2021 and 2022 was 13 billion m3. This is why I argued in April that ENTSOG's summer outlook was wrong because it did not take into account this reduction in the flow of contracted transit.
Breakdown of Gazprom's monthly exports to Europe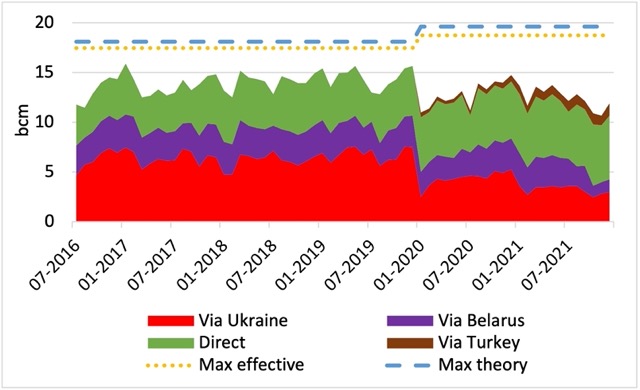 On the other hand, Gazprom sent a record amount of gas to the EU via TurkStream in December. TurkStream's second channel has been fully utilized to bring gas to Europe, as Gazprom envisioned when it offered the pipeline as an alternative to the South Stream, which was canceled in 2014.
Gazprom's European exports by route (2017-2021)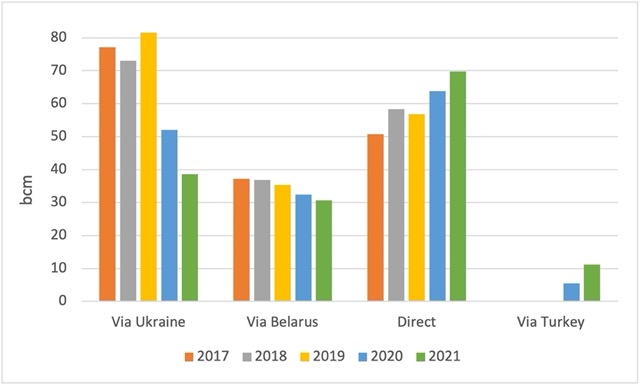 Gazprom's European exports broken down by route in 2021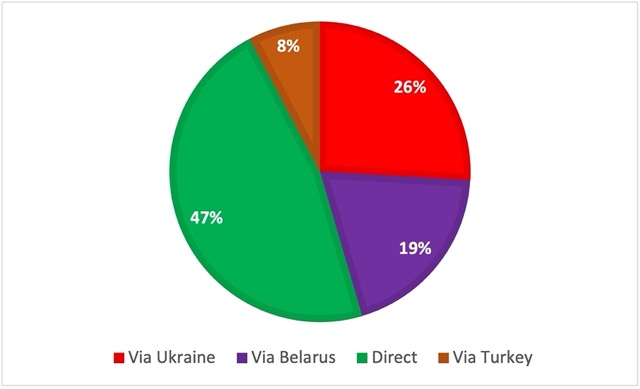 LNG emissions in Europe in December were up 6% over one month and 38% over one year, because record prices have made Europe a more attractive destination for cargo. Over the whole of 2021, European LNG regasification is down by 17 billion m3 compared to last year, but up 6 billion m3 compared to the historical average before the coronavirus. With global production at full capacity, only LNG can react to the price hike, as cargoes are diverted. The question is whether we will see record LNG volumes in the first quarter of 2022 that can help alleviate the energy crisis in Europe.
European LNG emissions (excluding Malta)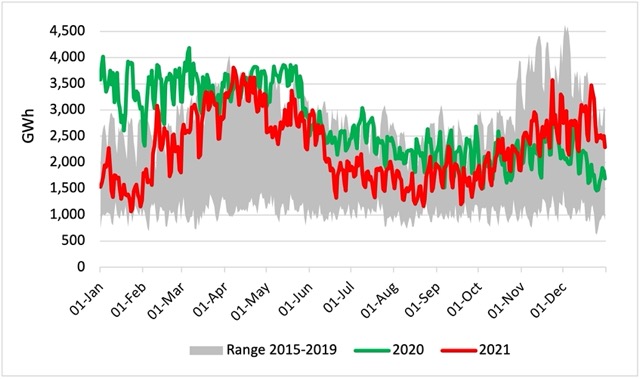 Storage facilities began the withdrawal period on October 21 with a worrying usage rate of 77%. Since December 29, thanks to good weather, very little gas has been reinjected and the installations ended the year at 56% full. There were 23 billion m3 less gas in stock at the end of the year than the average, and 9 billion m3 less than the old record.
European storage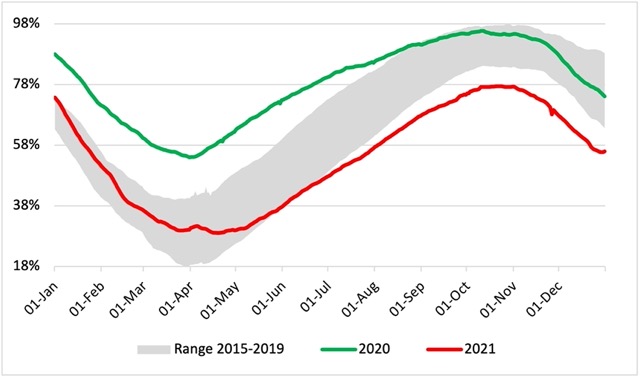 For policymakers who wish to revert to indexing oil in gas supply contracts, it may be worth noting that, until 2021, consumers benefited from the shift to spot gas pricing on gas. gas. If the European Commission's speech on gas had been less negative over the past two years, we might have seen large producers like Russia continue to overinvest in supply, and the energy crisis that tipped the balance against consumers for the first time in over a decade could have been avoided.
Gazprom's annual realized price in Europe compared to TTF and oil indexation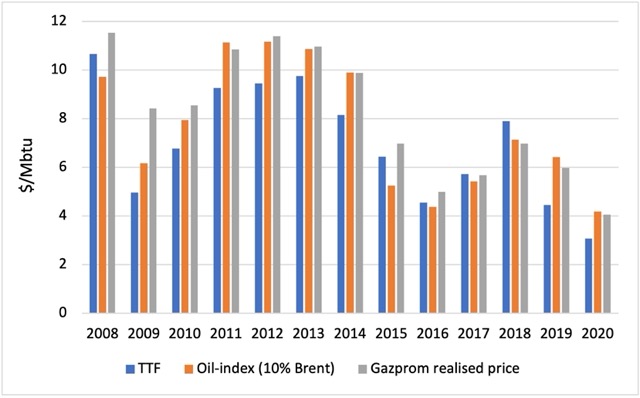 Meanwhile, the Nord Stream 2 saga continues. Germany's new Foreign Minister Annalena Baerbock expressed her opposition to the pipeline on December 12. On December 16, the German regulator indicated that it would not take a decision on whether the operating company Nord Stream 2 could be certified as an independent transport operator in the first half of 2022. On the other hand , the Russian government is considering a request from Rosneft to supply gas via Nord Stream 2. This potential legislative change could signal that Gazprom no longer has available production capacity, and / or it could be an attempt to make Nord Stream 2 complies with European regulations. This change, dreamed of by the EU for many years, should be a unique opportunity for the committee to reconnect with the Russian government at the highest political level. With the two Nord Stream 2 lines now under service pressure and fully ready for operation, the main question is when the pipeline will start pumping gas into the German grid.
In his end-of-year speech, Gazprom CEO Alexey Miller provided some interesting information. Global gas consumption increased by 150 billion m3 in 2021, and Gazprom has satisfied more than a third of that additional demand, he said. Gazprom's production in 2021 was 515 billion m3 – its highest point in the last 13 years. Thus, Gazprom's unused production capacity was at best 32 billion m3 at an annualized level in 2021. In Q4 2021, Gazprom produced 136 billion m3 of gas, i.e. 1.48 billion m3/daytime. As we know the previous quarterly record was 118 billion m3 in the third quarter of 2021 and that Gazprom's maximum capacity is 1.5 billion m3/ d or 138 billion m3 in one quarter, it can be safely assumed that Gazprom had no reserve capacity in the fourth quarter of 2021. As the storage facilities were full in Russia in November, it can be inferred that the reduction in supply in Europe n t was not a hidden political agenda but the consequences of a demand in Russia.
We assumed for years that Gazprom would always have sufficient spare capacity to compensate for any unforeseen event. Not only does Gazprom have no spare capacity at the moment, but its overall production capacity has in fact not changed in recent years, despite the launch of gas deliveries to China via the Power of Siberia in December 2019. That is, while the production capacity to supply China has increased to 10 billion m3/ year over the past two years, Europe's supply capacity has decreased accordingly. This is why Gazprom must accelerate the development of the Kharasveyskoye field in the Arctic, whose commissioning is scheduled for 2023 and which is expected to produce 32 billion m3/ year of gas at full capacity. As this will not significantly ease the overall supply-demand balance in the medium term, Putin has asked European buyers to sign new long-term contracts to support Gazprom's investment in additional fields on Yamal.
Global gas reserve production capacity at annualized level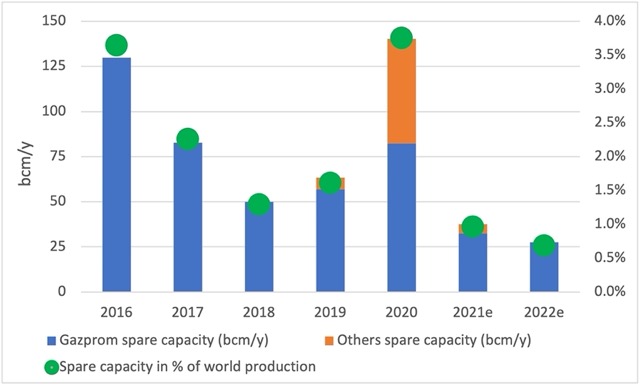 It is also interesting to note that there is currently no connection between the Russian fields which supply China with gas and those in western Russia which serve the European market. But in the future, Gazprom plans to integrate these fields in the East into the national supply system. Thus, without additional long-term contracts, certain capacities historically dedicated to the European market could be used to serve China.
As we need more gas in Europe, both to alleviate the energy crisis and tackle the climate crisis, we must encourage the three major exporters – Russia, the United States and Qatar – invest significantly to develop their exports. This could be a great opportunity for the European Commission to play a central geopolitical role in engaging with Russia to find a global EU-Russia deal.
The EU's big 'Green Deal' or 'fair energy transition', launched by Ursula von der Leyen when she took the chair of the committee in December 2019, has turned into an unfair climate catastrophe before her own eyes. where energy consumers are paying more and EU emissions are getting worse. This energy crisis shows that gas is necessary in the energy transition. 2021 ended with a record award month, as lofty aspirations were followed by cold reality:
In terms of energy, gas in Europe and Asia is now three times more expensive than oil. Instead of oil providing a ceiling, in a new normalized environment, we might see oil providing a floor to European and Asian gas prices, because gas is cleaner than oil.

Instead of the gradual reduction in coal envisaged at COP26, the demand for coal is actually growing.

On the electricity market, with the brutal closure of two additional nuclear power plants in France, the failure to reduce demand turns into a painful destruction of demand.

Even though carbon trading hits an all-time high in the EU's emissions trading system, the bloc is failing to accelerate emissions reductions because too many allowances are provided for free.
With the energy crisis now expected to last at least until 2022, the question is whether governments will put the climate crisis on the back burner. The committee may have ended the year by releasing its Fit for 55 gas package, but the European Council didn't even mention energy after its December 17 meeting. While attention has shifted to preventing a climate crisis by 2030, Europe is now at the heart of its worst energy crisis.
Good year,
Dr Thierry Bros
Professor at Sciences Po & Expert in energy
January 3, 2022